Why study with us?
You're never too old to learn something new. By completing an Access to Higher Education Diploma with Highbury College online, you will open yourself up to a world full of exciting opportunities. You will receive a highly respected qualification, which will enable you to develop the skills, knowledge and, most importantly, the confidence to excel in a higher education environment.
What we have to offer
If you study an Access to HE Diploma with Highbury College then you can be assured that you're receiving a high quality education. All our qualifications are regulated by the QAA (Quality Assurance Agency for Higher Education) and are awarded by Open College Network West Midlands. Our Access to Higher Education Diplomas include:
Access to Higher Education Diploma (Health Professionals)
Access to Higher Education Diploma (Nursing)
Access to Higher Education Diploma (Midwifery)
Whichever Access to Higher Education Diploma you pick, you will be making a valuable investment in your future. An Access to HE Diploma could be the key to securing your place at your chosen university, and, in turn, your dream career. We know that taking the first step on your journey to a brighter future can be scary. Because of this, all our Access to HE Diplomas will equip you with the key skills you need for higher academic study and university life, along with the required subject knowledge. Making the transition to higher education has never been easier.
Key benefits of studying with us
You may find the prospect of returning to education a little daunting, especially if you are juggling a busy day-to-day schedule of work or other responsibilities. But there's no need to worry. Our Access to HE Diplomas have been designed with you and your time in mind. Through distance learning, you can study from the comfort and privacy of your own home, whenever suits you. All you need is an internet connection. Other advantages of online study with us include:
We offer an excellent choice of subject areas to study
Course content is delivered via PEARL, our flexible and easy-to-use online platform
Study materials are accessible 24/7 and there's no time limit on your access
Content is interactive and engaging and can be tailored to your study requirements
You will be assigned your own personal tutor and Access to HE programme manager who will provide you with expert knowledge and support throughout your course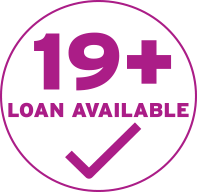 Government backed loan could fund your course
All of our Access to Higher Education courses attract 19+ Advanced Learner Loan funding, which you can apply for through our site. This kind of loan can cover the cost of your fees and doesn't have to be paid back until you are earning £27,295 a year or over.