Enrolment
Enrolment allows you to officially become one of our students and this process could not be easier. All you need to do is choose the course from our selection of Access to Higher Education Diplomas that you feel best meets your learner requirements and fits your career aspirations and click on the relevant enrolment button. If you're not sure which course is the right one for you, you can contact the college via phone or email to talk through your options.
You can enrol at any time. Make sure you choose the enrolment option that corresponds with your desired payment method or plan and you're ready to go. For more information on the different payment methods that are available click here.
YOUR PAYMENT OPTIONS
If you wish to make a single payment and pay for your course fees in full then click on the 'Pay in Full' button. Or, if you prefer to spread the cost by paying in instalments each month, press 'Pay by Instalments'. Whichever option you go for, you will be taken to a secure payment gateway, established by Realex, where you can pay by credit or debit card. Before you enter your details, you will be presented with the total cost of your payment. Once you have confirmed the amount shown, you will be a matter of minutes away from becoming a Highbury College Online student.
GETTING A LOAN TO PAY FOR YOUR COURSE
You may be eligible for a 19+ Advanced Learner Loan. If you are, the process couldn't be simpler. All you need to do is click on 'Register & Apply for Advanced Learner Loan' and you'll be taken through your next steps. For more information on Advanced Learner Loans please see our 'Payment' page.
CONFIRMATION OF ENROLMENT
Once you have completed your payment, you will be automatically sent a confirmation email. If you have opted to apply for an Advanced Learner Loan you will be sent an email detailing the information required to complete this application. Your email will lead you to on-screen instructions that will guide you through the remainder of the enrolment process. After completing the relevant steps, you will be sent a username and password which will give your access to your course. For those who have paid in full, you will see the course in its entirety on first look, whereas, if you have applied for a loan, please be aware that you may only be able to access some of the course content initially. How much of the course you're able to view will depend on your funding application status.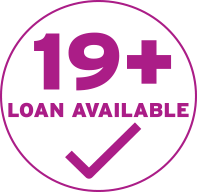 Government backed loan could fund your course
All of our Access to Higher Education courses attract 19+ Advanced Learner Loan funding, which you can apply for through our site. This kind of loan can cover the cost of your fees and doesn't have to be paid back until you are earning £27,295 a year or over.